POST UPDATED ON 08/31/2020 - By formal written communication from WTM, exclusively for its customers
POST UPDATED ON 08/18/2020 - By means of a statement of definitive deactivation of the Siscoserv System by Min. of the Economy
Dear customer: initially we ask you to watch carefully the video published with guidelines and clarification on:
How are exports and imports of services without Siscoserv?
Note OFFICIAL from the Ministry of Economy, on 08/17/2020, at 18:34
https://www.gov.br/economia/pt-br/canais_atendimento/imprensa/notas-a-imprensa/2020/agosto-2/ministerio-da-economia-anuncia-desligamento-definitivo-do-siscoserv
Options for our customers from now on: (according to the Services they currently contract)
customers with WTM Finance Exchange Transactions
It normally follows with tax support, issuance of DARFs, monthly Compliance reports and Exchange.
Only the Siscoserv registration will no longer be carried out. We will monitor the status of the NFSE and any possible RFB measures in its place.
I want to understand WTM Finance better
customers with WTM Pay Credit Card Operations
It normally follows with tax support, issuance and discharge of DARFs, monthly Compliance and Exchange reports.
Only the Siscoserv registration will no longer be carried out. We will monitor NFSE status and any possible RFB measures in place of it
I want to understand WTM Pay better
customers with Local TED/Boleto Operations (WTM Bank)
I want to understand WTM Bank better
ideal option for SISCOSERV CLIENT MIGRATION who pay International Shipping and Local Expenses through Dispatchers and Cargo Agents

It is possible to pay all Foreign Trade expenses (both local and the Goods Exchange itself) through the WTM Bank.
WTM BANK ADVANTAGES:

Agility in closing process expenses
Possibility of including expenses in the Entry and Complementary Invoice with more agility
Possibility of Integration with the Dispatcher to improve the cash advance/proofing process
Possibility to attach supporting documents for each payment/expense
Payment of Import Declaration Taxes integrated with other expenses

Monthly cost of the WTM Bank Corporate Account: R$ 50.00 / month (Individual: R$ 0.00)
Additional Compliance Services Package: Using WTM Bank to pay their expenses, the customer can hire the Service of Compliance of Foreign Trade Operations in the same way and by the same current value of Siscoserv Registry.

It will be enough to continue sending the documents (receipts, invoices, bills of lading, etc.) of the import and export processes.
Our team will evaluate each expense, classify, separate the amount paid to those domiciled in Brazil and abroad, verify what needs an invoice, documents or clarifications by service providers and periodically report to customers.
COMPLIANCE SERVICE ADVANTAGES: (I want to better understand WTM Compliance)

Ensure the quality of documents and proof of payment of foreign trade expenses
Ensuring Compliance with Fiscal, Legal, Exchange and Tax Compliance of Operations with government agencies, banks and brokers
Avoid/reduce the risk of fines and penalties related to the collection of taxes (mainly in payments brokered/intermediated by third parties)
Ensuring Compliance with the Money Laundering Prevention Law
Possibility of analyzing and recording each expense individually, identifying which ones are creditable/recoverable.
WTM do Brasil partners with customers Exclusively with Siscoserv operations
Recommend items from the following topics to customers.
Exclusively Customers with Siscoserv operations
---
History and publications prior to deactivation:
Note OFFICIAL from the Ministry of Economy, on 07/14/2020, at 20:34
https://www.gov.br/economia/pt-br/assuntos/noticias/2020/julho/ministerio-da-economia-suspende-temporariamente-registro-no-siscoserv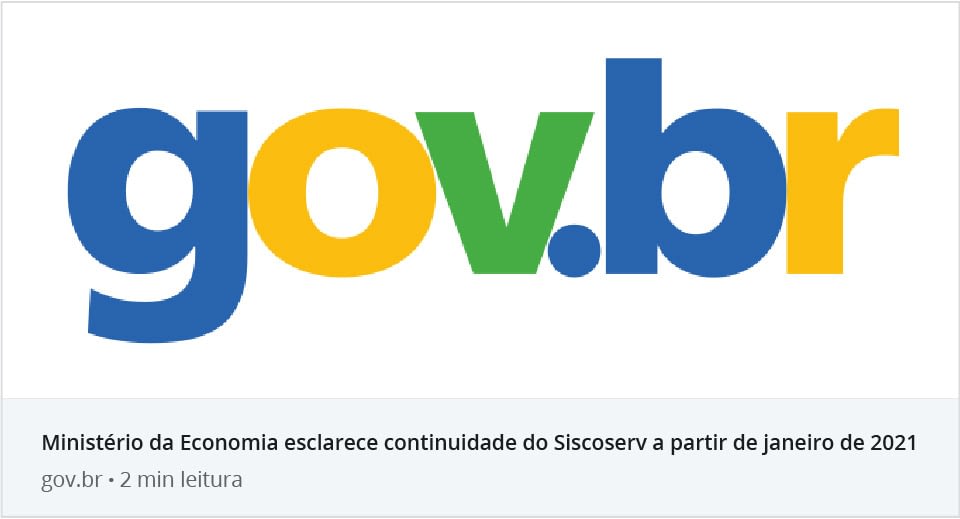 Communication and Guidance to Customers
Dear WTM do Brasil Siscoserv Customer:
We inform you that the Federal Government has adopted cost reduction measures, postponing the registration of the declaration in Siscoserv, of operations not yet registered in 2020, to January 2021.
The government's main savings will be in paying for the maintenance of the system, which, according to the government itself, will return in January.
In this way, the records that customers make in the iServices system from July 11 onwards will be transmitted normally to Siscoserv in January 2021, as soon as the system is restarted.
We recommend that customers continue to register and send documents as normal, preferably within the usual deadline, to avoid accumulation and inconvenience at the beginning of the next year.
We remain at your disposal for any clarifications.
Lisandro Trindade Viera
CEO of WTM do Brasil
Details about how to proceed with the records are in the post:
https://wtm.international/news/ministerio-da-economia-flexibiliza-prazos-do-siscoserv-durante-efeitos-da-pandemia/
Unofficial Communiqué, on 07/11/2020, about the temporary inactivation of the Server:
https://wtm.international/news/comunicado-extraoficial-sobre-a-desativacao-do-siscoserv/
Official Public Notice on the FUTURE OF SISCOSERV, on 07/13/2020:
https://wtm.international/news/comunicado-oficial-wtm-do-brasil-sobre-o-futuro-do-siscoserv/
One hour and twenty-six minute video with information and guidelines:
We apologize for the error in the position of the image in the video.
To help, we let FULL MATERIAL used in the video available for download.
What the Federal Government has responded: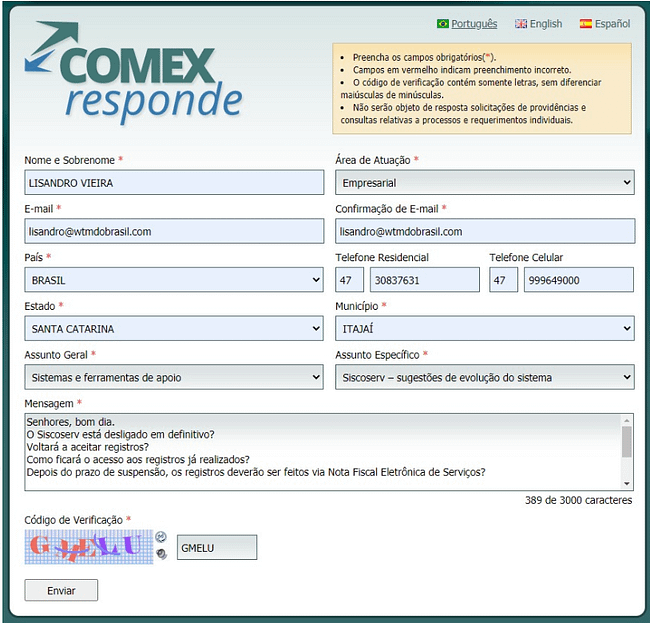 Updates and new information:
Any publications and official responses from the Federal Government will be included in this post, if you have any questions, just return here and see the updates.